Zhangjiajie Lotus International Airport
The historical name is Dayong airport, Zhangjiajie lotus airport.The airport is located in Zhangjiajie City, Hunan Province, 3km from Zhangjiajie downtown, which is the second largest international airport in Hunan Province.
.l g1T&g?0Zhangjiajie airport is one of the most beautiful natural landscapes in China. Where, you can see tianmenshan hole.Zhangjiajie Tourism Information Website,Avatar Toptour-English Website in Chinaha"L \5F(D LgBG.X(H
In 1991, Dayong Airport started construction. In 1993, the official operation.In October 1995, Dayong Airport changed its name to "Zhangjiajie Lotus Airport".In 2011, Zhangjiajie Lotus Airport was upgraded to Zhangjiajie Lotus International Airport.In September 2015, T2 terminal was officially opened.
In January 2016,State government agreed to carry out landing visa work, which marks Zhangjiajie to a new level of opening up.Zhangjiajie Tourism Information Website,Avatar Toptour-English Website in Chinaa,OM.PX&D#Bq
Zq g.x_a0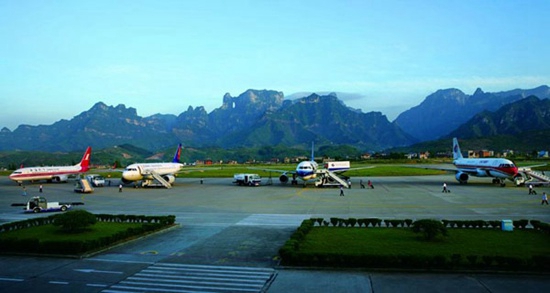 Zhangjiajie Tourism Information Website,Avatar Toptour-English Website in ChinaHnC)m"B f
'Wb5Hl9XN~P0
Z$}m8Y%U+@0
Zhangjiajie Tourism Information Website,Avatar Toptour-English Website in China(G H[4{|T0v
0O9x)j3z:r0g*}0