Zhangjiajie's History and Culture
a_a%}1JR0Zhangjiajie is a city can date back to five thousand years ago. In the past, it was called Dayong. In 1982, central government built the first national forest park here and named it Zhangjiajie National Forest Park. As the development of tourism industry, later, Dayong changed the city title to Zhangjiajie, which is famous for the Wulingyuan Scenic Area. What's more, Zhangjiajie was entitled as world heritage by UNESCO in 1992 and also managed to become international geological park in 2003.Zhangjiajie Tourism Information Website,Avatar Toptour-English Website in Chinan{+J%u-M&H[l@7n
+i2x\wd0However, Zhangjiajie was considered as some place isolated and even difficult to enter in ancient times. The earliest human activities here lied in 100,000 years ago. It was said that Shen Nong once lived here secretly, so did the Royal Highness Zhang Liang in Han Dynasty (206BC—220AD), and then was buried in Qingyan Mountain (today's Zhangjiajie). Zhangjiajie Tourism Information Website,Avatar Toptour-English Website in ChinaG0k\L Zk[3x
'Ca;Z nr7](W0The name of Zhangjiajie came from its scenic spot, for local people found this rare forest in 1979. In 1982, under the ratification of the State Council, the National Planning Committee agreed to make Zhangjiajie the first national forest park in China.Zhangjiajie Tourism Information Website,Avatar Toptour-English Website in China!jqe#zEE gL&W
In 1988, Dayong city, in which Zhangjiajie located, together with Sangzhi (the site of Tianzi Mountain) and Cili (the site of Suoxi Channel) combined into one city that subordinated to provincial government directly.Zhangjiajie Tourism Information Website,Avatar Toptour-English Website in China*m(f8VAr0V yp%b
In 1992, Zhangjiajie National Forest Park, Tianzi Mountain and Wulingyuan were listed as "international natural heritage".
ua!SmjM0In 1994, under the ratification of the State Council, the name of Dayong was changed to Zhangjiajie. Nowadays, it has become an advanced scenic spot where covers an area of over five hundred square kilometers, involving in mountains, lakes, caves as well as customs.Zhangjiajie Tourism Information Website,Avatar Toptour-English Website in Chinam,D j_*`+k:|Pls
B&U&fq&r)Vh2g;t0Up to now, in excess of 20 spots have already been developed; more than 30 tourist routes have been formed. All the tourist routes lasted for over 500 kilometers.
Soured and translated by Becky
8vh)rJ"@3f"_0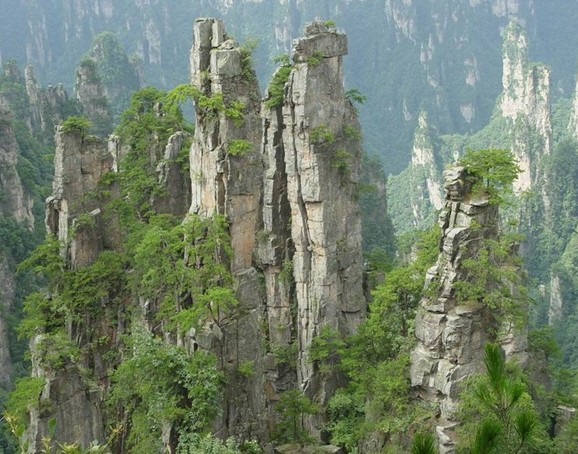 Zhangjiajie Tourism Information Website,Avatar Toptour-English Website in China*`T]!LS"})w bp