Phoenix grand hotel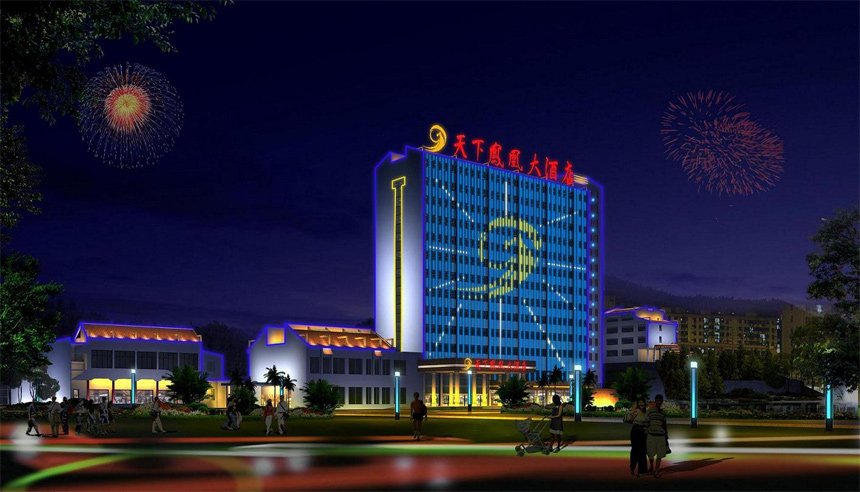 Description:
Phoenix grand hotel situated in Fenghuang old city(china famous historic city), was built by well-known entrepreneur- Mr,Chen Changsong, and is managed by HK Tianxing property company upgrading with international standard. The hotel has 110 guest rooms (premier suite, deluxe suite and standard rooms), which are well equipped, and furnished .the hotel has nine private dining rooms and one big spacious dining hall which can hold 280 people at the same time, the delicious local food and famous Hunan dishes and other Chinese cuisine are served. The hospitable service staffs are waiting for your presence.
The dinning hall can seat 280 people at the same time, serves both Chinese and western food, The dishes are characterized by Hunan flavour especially Tujia. The surroundings of dinning hall is ethereal and comfortable, and it can let you taste both the beautiful natural scene of fenghuang and bite and sup culture of Xiangxi. The famous dish is: Dish of Tu nationality of Xiangxi.
There are premier suite, luxurious deluxe suite, luxurious standard rooms up to 110 rooms (apartments) and 200 beds.
The above room rates include service charge. All room rates are subject to city tax. Breakfast is CNY20(US$2.5) per person; extra bed is CNY100(US$12) per bed per night, which are booked via zjjtrip.net in advance. Payment by major credit cards accepted. Check out by 12:00 noon. Unless upon request, the hotel will only hold reservations until 18:00. All room rates are surcharge during the peak periods. First night room rate be required to secure the reservation during National Days. Any change or cancellation of guaranteed reservation will be charged the one nights rate per room booked.
Facilities:
Parking service Ticketing service
Leisure amenities:
Beauty salon
Hotel Reservation:
Room Type

Off-season

Discounts

High-season

Discounts

Holidays

Discounts

3Star

Double Room

US$50(CNY320)

US$55(CNY350)

Superior

Standard Room

US$70(CNY430)

US$78(CNY480)

Phoenix Room

US$98(CNY630)

US$105(CNY680)

Delux Suite

US$138(CNY880)

US$150(CNY980)
1.High-season: March01-November30
2.Off-season: December 01- February28(Next year)
3.Holidays: May(01-05);Oct (01-07); The Spring Festival(01-07) Mid-autumn festival
4.Booking Notes: Our website supports online booking,We help you make the most of your travel time and money.